The 14th running of the Irish 2000 Guineas was held on Wednesday 9th May 1934 over 1 mile of The Curragh. A pot of 2000 Guineas was available, 100 guineas to the second and 50 guineas to the third. The winner was owned by Sir Thomas Dixon, trained by Philip Behan and ridden by Joe Canty. The winner won by 2 lengths, with a head between second and third.
IRISH 2000 GUINEAS 1934
CARIFF (Brown colt by Achtoi out of Carnlough) SR 1927
The winning owner won £1850 (The equivalent of £125,900 in 2018 based on Bank of England inflation calculator).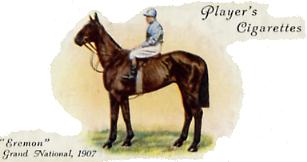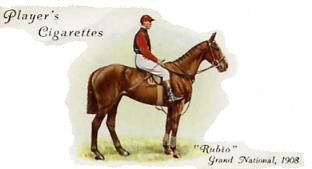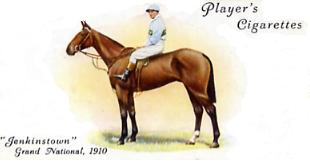 Pos.
Horse
Weight
Jockey
Owner
Trainer
1
CARIFF
9.4
Joe Canty
Sir Thomas Dixon
Philip Behan
2
PORTUGAL
9.0
Morny Wing
Mr Delaforce
Col A Blake
3
KYLOE
8.10
Thomas Burns
Sir Percy Loraine
J Murphy
4
MOLINO
9.0
Herbert Holmes
Mr J J Sullivan
J J Parkinson
5
FEARLESS PRINCE
9.0
E Gardner
Mr W Barnett
John T Rogers
6
WAGON HILL
9.0
M Barrett
Mrs G Dunne
Col A Blake
7
FIGURE HEAD
9.0
A Barrett
Mr H S Gray
Philip Behan
8
BUCKBASKET
9.0
W Barrett
Mr J J Cooney
C Brabazon
9
GOLDEN DRAGON
9.0
Jack Moylan
Mrs Croft
H Ussher
10
LOOK OUT
9.0
P Mahon
Mr O V Watney
J Murphy
Betting
TRAINER PROFILE
Philip Behan, better known as Phillie, was one of 7 jockey brothers from County Kildare who was a more successful trainer than jockey. He trained the second (Leading Power) and third (Likely Bird) in the 1900 Irish Derby behind Gallinaria. He also trained the second, Royal Winkfield, in 1901 when beaten by Carrigavalla. However, he had to wait late in his training career to achieve success, being responsible for Sea Serpent (SR 1919) in its 1931 Irish Derby victory. Brother William Behan, although he did not enjoy success as a jockey in the Irish Derby, as a trainer at Jockey Hall, Curragh, he won the Irish Derby with Theologian in 1884. Nicholas Behan, the most successful of the jockey brothers, rode his first winner at the Curragh in 1880 when he was just 10 years old and weighted 5 stone. He won his only Irish Derby on Sortie, winning by 4 lengths from Theorist. The next year he was second on Captain Arthur behind Sylph, and second again in 1885 on Madcap behind St Kevin. He was the only one of the 7 brothers to win the race as a jockey, but his brother Brother John Henry, better known as Jack, trained at Waterford Lodge and won the Irish Derby in 1910 with Aviator (SR 1978). Another brother, Arthur, rode Instability to third place in the 1895 Irish Derby behind Portmarnock.
4/5 fav
Cariff
2/1
Kyloe
100/8
Portugal
100/8
Fearless Prince
100/8
Golden Dragon
100/1
Molino
100/1
Wagon Hill
100/1
Figure Head
100/1
Buckbasket
100/1
Look Out
Over round 117%
ISBN 978-0-9957632-0-3

652 pages

774 former courses

ISBN 978-0-9957632-1-0

352 pages

400 former courses

ISBN 978-0-9957632-2-7

180 pages

140 former courses

ISBN 978-0-9957632-3-4

264 pages

235 former courses

Copies of the above books are only available by emailing johnwslusar@gmail.com stating your requirements, method of payment (cheque payable to W.Slusar) or Bank transfer, and the address where the book(s) should be sent.

ORDER FORM
Download an order form
Quantity
Cost
Volume 1 North of Hatfield £19.99 + £4 postage
Volume 2 South of Hatfield £14.99 + £3 postage
Volume 3 Wales & Scotland £9.99 + £3 postage
Volume 4 Ireland £9.99 + £3 postage
Volumes 1 - 4 £54.96 + £5 postage
Postage & Packaging
Total
Email order form to johnwslusar@gmail.com