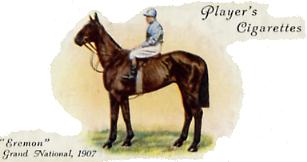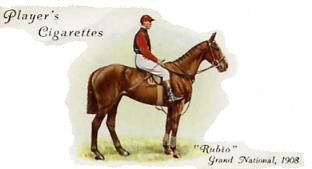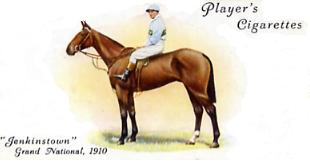 The Derby Stakes of 50 Guineas each for 3 year olds with colts carrying 8 st 3 lb and fillies 8 st. Over the last mile and a half, the winner to receive £1,023 15s (The equivalent of £152,700 in today's terms based on Bank of England inflation calculator), and the second to receive 100 Guineas out of the stakes. The winner was trained by John Pratt.
AIMWELL SR 1984
Pos.
Horse
Jockey
Owner
1
AIMWELL
Charles Hindley
1st Earl of Clermont
2
GRANTHAM
Frank Buckle**
Lord Grosvenor
3
VERJUICE
-----
Mr Wastell
4
CHAUNTER
-----
Colonel O'Kelly
Also

COLT BY ECLIPSE

-----
Colonel O'Kelly
Also
BALLOON
-----
Mr Bullock
Also
VULCAN
-----
Lord Grosvenor
Also
LEPICQ
-----
Sir F.Standish
Also
BACKBITE
-----
Lord Foley
Also
ROLLO
-----
Lord Sherborne
Betting
2/1
Grantham/Vulcan (coupled)
2/1
Balloon
7/1
Aimwell
8/1
Bar

**NOTE that only the winning jockey was recorded in the Racing Calendar. However, Frank Buckle had his first public ride on 17th May 1783 and rode regularly for the 1st Earl of Grosvenor, Richard Grosvenor, until the death of the Earl on 6th August 1802, so on the balance of probability it is likely he partnered the Earl's Derby mounts. After his death Frank teamed up with trainer Robert Robson, who trained for the Dukes of Grafton, Sir Charles Bunbury and Colonel Mellish, but also took some mounts for the eldest son of the 1st Lord Grosvenor, also called Richard. Furthermore, reports after Frank's death in 1832 reported he also rode for Mr Udny, Mr Durand, Mr Cookson and Mr Wilson.
ISBN 978-0-9957632-0-3

652 pages

774 former courses

ISBN 978-0-9957632-1-0

352 pages

400 former courses

ISBN 978-0-9957632-2-7

180 pages

140 former courses

ISBN 978-0-9957632-3-4

264 pages

235 former courses

Copies of the above books are only available by emailing johnwslusar@gmail.com stating your requirements, method of payment (cheque payable to W.Slusar) or Bank transfer, and the address where the book(s) should be sent.

ORDER FORM
Download an order form
Quantity
Cost
Volume 1 North of Hatfield £19.99 + £4 postage
Volume 2 South of Hatfield £14.99 + £3 postage
Volume 3 Wales & Scotland £9.99 + £3 postage
Volume 4 Ireland £9.99 + £3 postage
Volumes 1 - 4 £54.96 + £5 postage
Postage & Packaging
Total
Email order form to johnwslusar@gmail.com